Arlington Residences
Talk

0
1,077pages on
this wiki
Arlington Residences
Address
480 Ellis Street

( 4 Blocks North of Market Street )

Phone
415-673-9600
Email
Website
Contact(s)
Hours
M-Th: 9am-3pm
Language(s)
Summary
See article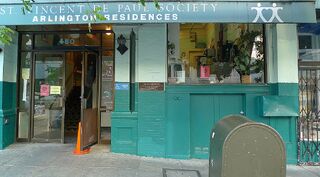 480 Ellis Street and Leavenworth Street
(6 blocks north of Market Street )
415-673-9600
Bus Lines : 19 Polk and 38 Geary
Units:148 SRO units (50% occupied)
No vacancies to the general public
Program: Housing First Program
Many SRO units have a bath facility in room, otherwise shared baths.
Now operated by Mercy Housing; formerly St.Vincent de Paul
All new tenants are referred by DAH Intake Team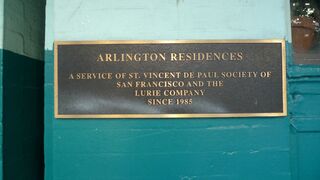 External Links
Edit
Mercy Housing
Dept. of Public Health Direct-Assisted Housing

Sfbaysurf 22:23, 8 April 2009 (UTC)
2010 HAP Manual Text
Edit
The 2010 HAP Manual has many changes that are not currently part of SFHomeless.net. The question is whether the wiki or the manual contains the most up to date information. The most efficient way to ensure the wiki has the best information is to add the 2010 HAP Manual text into its respective wiki agency page under a new section "2010 HAP Manual". It will then be up to future wiki users to determine whether and how to update the agency page with the new information.
Arlington Residences - N
480 Ellis St.
415-673-9600