Ad blocker interference detected!
Wikia is a free-to-use site that makes money from advertising. We have a modified experience for viewers using ad blockers

Wikia is not accessible if you've made further modifications. Remove the custom ad blocker rule(s) and the page will load as expected.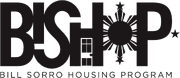 The Bill Sorro Housing Program (BiSHoP) is a community based program of the Veterans Equity Center (VEC) committed to addressing housing related issues for low to moderate income families, individuals and seniors. BiSHoP seeks to provide an array of free services including housing application assistance, case management and our monthly housing clinic. Our program consists of staffs and dedicated volunteers where social workers, attorneys, community advocates; legal workers, and other service providers from various backgrounds collaborate in educating the community on pertinent housing issues as well as providing drop-in counseling to those with specific housing problems specifically in South of Market in San Francisco.
General Information
What Does BiSHoP Do?
• Legal Information & Referrals
• Educational Workshops (Part of Housing Clinic)
• Tenant Counseling – (Part of Housing Clinic & Weekly)
• Bi-lingual Support Services (Tagalog)
• Direct Housing Services, including:
- Help with applying to waitlists, etc.
- Direct Access to housing applications
- Application Assistance
- Housing Case Management for residents in 94103, 94015, 94107 in the South of Market Area

If you're interested in getting more involved with BiSHoP or would like to learn about the volunteer opportunities we have, please contact
Caroline Calderon (Outreach Coordinator, caroline.calderon@vetsequitycenter.org)
Housing Case Managers: Juslyn Manalo, Theresa Imperial

(415) 255-2347
Veterans Equity Center
1010 Mission Street, Suite C
San Francisco, CA 94103