City Impact
Address
City Impact, also known as San Francisco Rescue Mission, and SF911

230 Jones St., San Francisco, CA 94102

Mailing Address: PO Box 16217, San Francisco, CA 94116

Phone
415-292-1770
Email
Website
http://www.sfcityimpact.com
Contact(s)
Hours
Language(s)
Summary
See article
City Impact, also known as San Francisco Rescue Mission, and SF911
230 Jones St., San Francisco, CA 94102 Mailing Address: PO Box 16217, San Francisco, CA 94116
415-292-1770 Fax Number: 415-292-1771 Email: sf911@sf911.com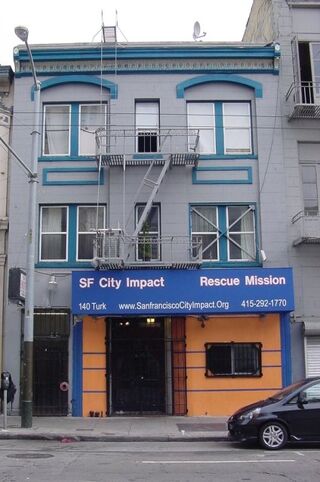 Note: Homeless outreach takes place at 140 Turk Street.
Description
SF Rescue Mission is a Christian resource center providing many services to Tenderloin's people. These include a food bank, K-8 school, thrift store, and a drop-in center. Religious services like worship and Bible study are also available. They're open for breakfast and dinner, as well as for groceries on Wednesday's and Thursday. Multi-services ministry in the heart of the Tenderloin, focusing on food distribtion, on-site meals, and spiritual support. Also operates a Thrift Store.
Ad blocker interference detected!
Wikia is a free-to-use site that makes money from advertising. We have a modified experience for viewers using ad blockers

Wikia is not accessible if you've made further modifications. Remove the custom ad blocker rule(s) and the page will load as expected.