Dolores Street Community Services
Talk

0
1,074pages on
this wiki
Dolores Street Community Services
Address
938 Valencia St., San Francisco 94110
Phone
415-282-6209, 415-282-3078 (Dolores Housing Program) 415-558-0503 (Richard M. Cohen Residence)
Email
Website
http://www.dscs.org
Contact(s)
Hours
Monday, Wednesday, Thursday 9:30 AM - 12:00 PM Tuesday 1:00 - 3:00 Friday 3:00 - 4:00
Language(s)
Summary
See article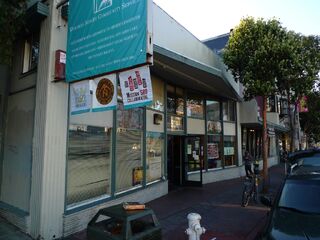 938 Valencia St., 94110 (Office)
415-282-6209 (Office)
415-282-3078 (Dolores Housing Program)
415-558-0503 (Richard M. Cohen Residence)
415-282-2826 (FAX) (Office & Dolores Housing Program)
415-558-9642 ( FAX Richard M. Cohen Residence)
http://www.dscs.org (Website)
Monday, Wednesday, Thursday 9:30 AM - 12:00 PM
Tuesday 1:00 - 3:00
Friday 3:00 - 4:00
Special appointments through case manager
Shelters open from 7pm-7am daily
Dolores Shelter Program
Edit
Provides neighborhood-based shelter, housing, advocacy, and support for people seeking dignity, health and hope. Shelters target Latino men, most of whom are working but cannot afford San Francisco rents.
Dolores Housing provides emergency housing, daily hot meals, on-site medical care, English classes, and support services. Guests can no longer stay up to 6 months. The program now offers 90-day stays with up to two 30-day extensions as required by H.S.A.
Shelter currently has 85 beds: 30 mattresses and 57 bunk beds.
Agency has two case managers.
Shelter works closely in collaboration with Mission Neighborhood Resource Center, and accepts CHANGES referrals from there.
Richard Cohen Residence
Edit
Richard M. Cohen Residence is a 10-bed, 24-hour care, state licensed assisted living residence for homeless men and women with disabling HIV or AIDS. Services include 24-hour staffing, meals, assistance with medication, visiting nurse and attendant care support, case management, financial management, transportation, activities, and access to substance abuse and mental health services. Community Center provides meeting space for many small groups that could never afford the rent for space of their own. Can only accept referrals from the DPH AIDS Housing Waitlist (and list is currently closed to new applicants).