Garland Hotel
Address
505 O'Farrell Street, San Francisco, CA 94102-1931
Phone
(415) 771-0525
Email
Website
Contact(s)
Hours
Language(s)
Summary
505 O'Farrell Street
San Francisco, CA 94102-1931
(415) 771-0525
This hotel on the edge of the Tenderloin is a franchise in a large national hotel chain that does not provide permanent residence accommodation. Because of its historical significance only is it included in this listing as an SRO hotel.
It is today known and advertised as Americas Best Value Inn & Suites Union Square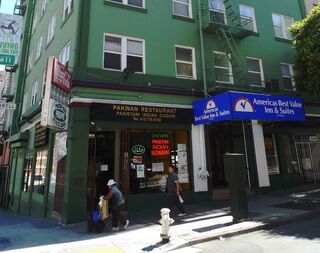 External Link
Edit
Ad blocker interference detected!
Wikia is a free-to-use site that makes money from advertising. We have a modified experience for viewers using ad blockers

Wikia is not accessible if you've made further modifications. Remove the custom ad blocker rule(s) and the page will load as expected.