Hamlin Hotel
Address
385 Eddy Street (@ Leavenworth, 4 Blocks North of Market Street)
Phone
415-567-1363
Email
Website
Contact(s)
Hours
M-F 9a-4p
Language(s)
Summary
See article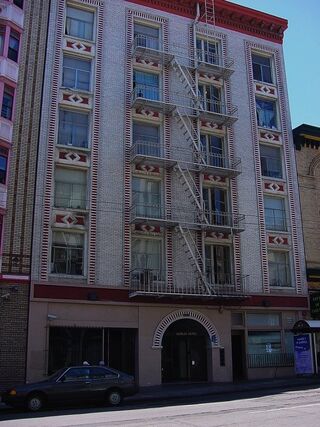 385 Eddy Street (@ Leavenworth, 4 Blocks North of Market Street)
415-567-1363
Units: 67 SRO Rooms.
Most have shared baths. Some rooms have a private bath.
Community kitchen on each floor.
Rent = 30% of monthly income.
Open Waitlist: 6 months to 12 months.
Applications available M-F 9a-4p or they can be picked up at 1000 Market Street on Tuesdays. Applications should be turned in at 1000 Market Street
Property Management: CHP - Community Housing Program For Owner/Master: Chinatown Community Development Center
Contact: Pearl -- Ph: 984-1450
Amenities: Employment counseling, job referrals, & skills development
Sfbaysurf 20:37, 23 March 2009 (UTC) Updated.Sfbaysurf 22:18, 3 April 2009 (UTC)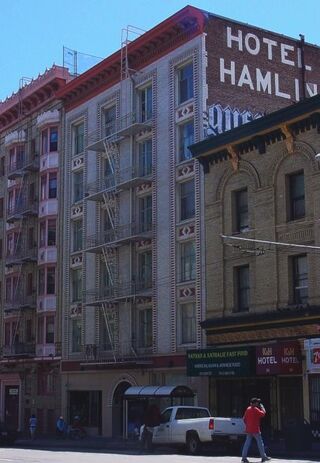 2013-2014 HAP Manual Updates
Edit
The 2013-2014 HAP Manual has many changes that are not currently part of SFHomeless.net. The question is whether the wiki or the manual contains the most up to date information. The most efficient way to ensure the wiki has the best information is to add the 2013-2014 HAP Manual text into its respective wiki agency page under a new section "2013-2014 HAP Manual Updates". It will then be up to future wiki users to determine whether and how to update the agency page with the new information.
Hamlin Hotel - MM 385 Eddy St. (at Leavenworth) 415-567-1363
Ad blocker interference detected!
Wikia is a free-to-use site that makes money from advertising. We have a modified experience for viewers using ad blockers

Wikia is not accessible if you've made further modifications. Remove the custom ad blocker rule(s) and the page will load as expected.