Hillsdale Hotel
Address
51 6th Street (First Block South, of Market Street)
Phone
Email
Website
Contact(s)
Hours
Language(s)
Summary
See article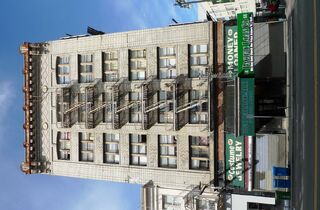 51 6th Street (First Block South, of Market Street)

Units: SRO Type Units provide permanent supportive housing to 84 residents. (Some with private bath, most have shared bath.)

Managed By: Episcopal Community Services

Program: Housing First Program

Notes:
Most likely several agencies have rooms allocated here.

*PLEASE SEE A SOCIAL WORKER OR CASE MANAGER FOR MORE INFORMATION*
External Link
Edit
Sfbaysurf 01:32, 6 May 2009 (UTC)
Ad blocker interference detected!
Wikia is a free-to-use site that makes money from advertising. We have a modified experience for viewers using ad blockers

Wikia is not accessible if you've made further modifications. Remove the custom ad blocker rule(s) and the page will load as expected.