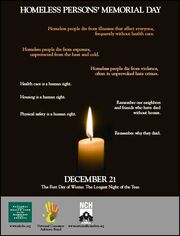 The National Coalition for the Homeless, the National Consumer Advisory Board and the National Health Care for the Homeless Council encourages communities to conduct public events each December 21 remembering people who have died homeless in the past year.
External Links
Edit
Ad blocker interference detected!
Wikia is a free-to-use site that makes money from advertising. We have a modified experience for viewers using ad blockers

Wikia is not accessible if you've made further modifications. Remove the custom ad blocker rule(s) and the page will load as expected.