Mission Hotel
Address
520 South Van Ness Avenue (@ 16th Street, Mission District)
Phone
415-621-4422
Email
Website
Contact(s)
Hours
Language(s)
Summary
See article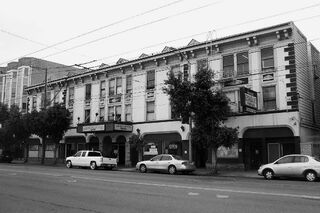 520 South Van Ness Avenue (@ 16th Street, Mission District)
415-621-4422
Units: 248 SRO Units. Some with bath, others are shared bath.
Managed By: THC - Tenderloin Housing Clinic
Referrals for CAAP, SSI or employed people
RENT: Based on Percentage of Income.
Lobby has television.
Other Agencies may have client rooms here.
THC states that applicants must be referred by a homeless shelter in San Francisco. They do not accept applications from any other sources. 
Ad blocker interference detected!
Wikia is a free-to-use site that makes money from advertising. We have a modified experience for viewers using ad blockers

Wikia is not accessible if you've made further modifications. Remove the custom ad blocker rule(s) and the page will load as expected.