Mission Neighborhood Resource Center
Address
165 Capp St., 94110
Phone
415-869-7977
Email
Website
Contact(s)
Hours
M-F: 7am-12pm, 2pm-7pm Sat: 7am-12pm (Thursday 6:00pm to 8:00pm is ladies only)
Language(s)
Summary
See article
165 Capp St., 94110
415-869-7977
415-241-9758 (FAX)
M-F: 7am-12pm, 2pm-7pm
Sat: 7am-12pm
(Thursday 6:00pm to 8:00pm is ladies only)
Bus Routes: 14 Mission, 22 Fillmore , 33 Stanyan, 49 Mission/Van Ness
Drop-in respite from the streets offering bathroom access, showers, laundry services and lockers targeting Mission homeless communities and those at risk, in particular Spanish-speaking immigrants, LGBT, women, active drug users and SRO tenants. Offers intensive bilingual case management and psychosocial support, including harm reduction psychotherapy, dual diagnosis counseling and support groups. MNRC free medical clinic, a Healthy San Francisco registration site and Health Care for the Homeless Access Point, provides TB testing, same day and primary care, abscess treatment, dental referrals, HIV counseling and testing, and free homeopathy services. Medi-cal and Medicare are accepted.

MNRC Community Programs offers the Ladies Night Collaborative, a women-only project every Thursday from 6 pm to 8 pm and the Neigborhood Internship, a leadership development program in collaboration with the Capp Street neighborhood. MNRC is a CHANGES site for shelter bed reservations in the single adult system. Must be age 18 or over.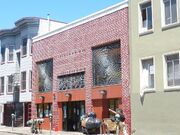 Ad blocker interference detected!
Wikia is a free-to-use site that makes money from advertising. We have a modified experience for viewers using ad blockers

Wikia is not accessible if you've made further modifications. Remove the custom ad blocker rule(s) and the page will load as expected.