Pontiac Hotel
Address
509 Minna Street (@ 6th Street, SOMA)
Phone
415-863-7775
Email
Website
http://www.pontiachotel.com/
Contact(s)
Hours
Language(s)
Summary
See article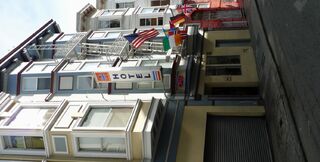 509 Minna Street (@ 6th Street, SOMA) ROOMS ARE NO LONGER SET ASIDE FOR LOW INCOME RESIDENTS (9/15/14)
415-863-7775

Review and more information on the Pontiac Hotel
See Also:

RENT: $35 per night and up. Continental Breakfast Included.

Units: 72 Units.

Likely some are set aside for low income residents.

See Social Worker to verify availability.

Sfbaysurf 01:03, 12 April 2009 (UTC)
Ad blocker interference detected!
Wikia is a free-to-use site that makes money from advertising. We have a modified experience for viewers using ad blockers

Wikia is not accessible if you've made further modifications. Remove the custom ad blocker rule(s) and the page will load as expected.