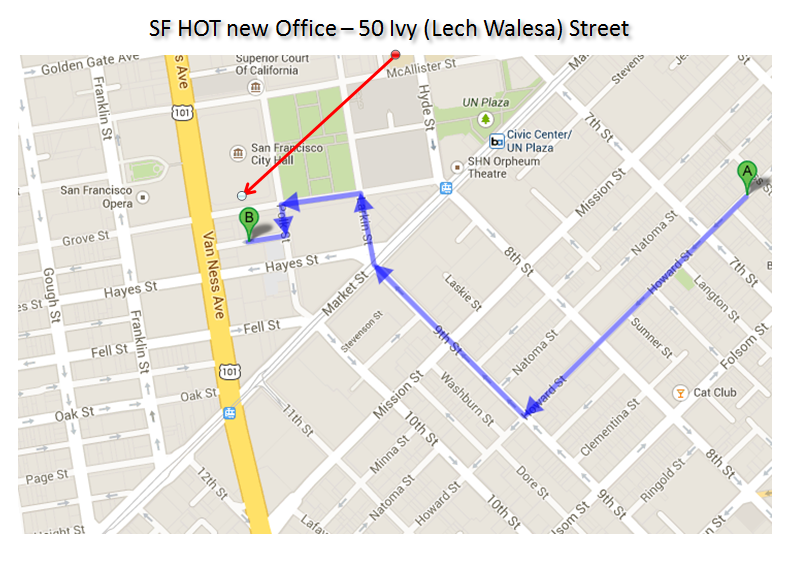 Dear Clients of SF HOT,
Starting on Wednesday, May 28th we are moving.  Our Old office at 1060 Howard Street will close.  Our new office is located at the old Tom Waddell Clinic located at 50 Ivy (Lech Walesa) Street. 
Old Tom Waddell Clinic
50 Ivy Street
San Francisco, CA 94102
(415) 355-7500
Entrance to 50 Ivy is located on Ivy /(Lech Walesa) Street between Grove and Hayes Streets.
During the move dates from Wednesday May28th to May 30th, we will be closed at 1060 Howard Street.  We will be open for services at 1380 Howard Street to walk in clients. 
SF HOT will be open for service at or new location on Monday, June 1st.
If you have any questions, please contact us at (415) 865-5200
Thank you,
SFHOT Team
Move Update
Edit
Contact your case manager for updates.
Walk in clients, call 415-865-5200
Section heading
Edit
Write the second section of your page here.
Ad blocker interference detected!
Wikia is a free-to-use site that makes money from advertising. We have a modified experience for viewers using ad blockers

Wikia is not accessible if you've made further modifications. Remove the custom ad blocker rule(s) and the page will load as expected.