St. Anthony Dining Room - 45 Jones Street
Address
45 Jones St. (at Golden Gate Ave.)
Phone
415-241-2690
Email
Website
http://www.stanthonysf.org/
Contact(s)
Hours
Daily 10:00am-11:30am (service for seniors, families and those with documented disabilities), 11:30am-1:35pm or until everyone is served (service to all)
Language(s)
English, Spanish
Summary
See article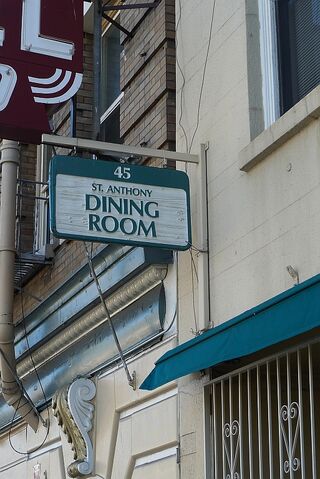 45 Jones St. (at Golden Gate Ave.)
415-241-2690
Daily 10:00am-11:30am (service for seniors, families and those with documented disabilities), 11:30am-1:35pm or until everyone is served (service to all)
All meals are served cafeteria style. The Dining Room is open 365 days a year. Wheelchair accessible.
In addition to daily meals, St. Anthony Dining Room sponsors the Emergency Food Assistance Program (EFAP) and Brown Bag. EFAP provides two bags of groceries to families 8:00am-9:30 am on the first Saturday of the month. Brown Bag is a monthly supplemental food distribution for seniors only (60+). Brown Bag takes place from 3:00-4:00pm on every third Thursday of the month. Brown Bag functions on the same quarterly system as EFAP, but because the program is limited to approximately 200 people, there is a quarterly lottery for the limited number of open spots. Brown Bag requires proof of residency in the Tenderloin. They must have a zip code that corresponds with Tenderloin zip codes. These zip codes are 94108, 94102, 94103. Call 415-592-2828 for more information. Languages: English, Spanish
External Links
Edit
Ad blocker interference detected!
Wikia is a free-to-use site that makes money from advertising. We have a modified experience for viewers using ad blockers

Wikia is not accessible if you've made further modifications. Remove the custom ad blocker rule(s) and the page will load as expected.