St. Anthony Foundation
Address
150 Golden Gate Avenue, San Francisco, CA. 94102
Phone
Email
Website
Contact(s)
Hours
Language(s)
Summary
See article
Template:Infobox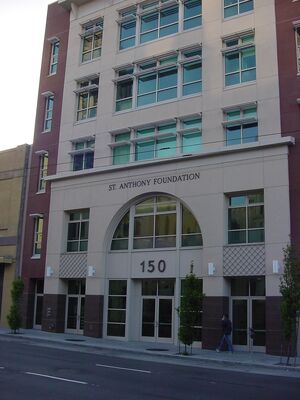 150 Golden Gate Avenue, San Francisco, CA. 94102
This article is a stub and needs assistance for improvement.
Catholic-based charitable organization works to improve the lives of the poor and needy in San Francisco. They also provide a free hot lunch daily till 1:30 pm. ( and they are pretty darn good). Amongst their charitable services , help getting I.d. for just 7.00. Friends of mine have even got help with rent. God bless them, especially in times like these.
Internal Links
Edit
External Links
Edit
Ad blocker interference detected!
Wikia is a free-to-use site that makes money from advertising. We have a modified experience for viewers using ad blockers

Wikia is not accessible if you've made further modifications. Remove the custom ad blocker rule(s) and the page will load as expected.