St. Vincent de Paul Society - Ozanam Center
Address
1175 Howard St., 94103 (between 7th and 8th Sts.)
Phone
415-252-5305 (24 Hours Reception) 415-864-0296 (Social Services) 415-864-3057 (Administration) 415-621-6458 (Howard St. Detox)
Email
Website
http://svdp-sf.org/what-we-do/wellness-center/
Contact(s)
Hours
M-F: 9-11:30am; 1-3pm Food distribution: M-F: 9-11am
Language(s)
Summary
See article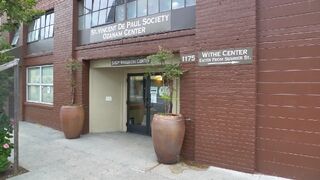 Description
This is no longer a drop in sobering center. This is now a Wellness Center. They feature various classes and groups focused on assisting people with their issues - they put out a calendar every month with a class list - e.g. Yoga, Journaling, Substance Abuse Support Group, Qi Gong etc.'They provide some snacks and other things as well, such as HIV testing and foot care.

Services
The overarching vision of the Wellness Center is to foster right relationship: justice, love and peace among all who pass through our doors, with a special focus on those who are struggling with addiction to drugs and/or alcohol and mental health issues.
The Ozanam Wellness Center consists of a daily program of stress reduction techniques, exercise, selections of personal and spiritual development as well as health topic sessions. We offer several free group activities each day as well as nutritional snacks to all participants. Using a harm reduction model, the Ozanam Wellness Center focuses on lending continuing support to those who are struggling with substance abuse issues and for those who are faced with other diagnoses.
Logistical Information
Monday through Saturday
9:15am-10:15am Stress Reduction:
Body Scan Relaxation, iRest Meditation, Guided Meditation, Capacitar, Yoga
10:30am-11:30am Personal Development :
Growth in Spiritual Life, Art, Journaling, Creative Writing, Music, Tai Chi, Stretching,
Movie and Reflection (Fridays)
11:30am-12:15pm Closed - Break
12:30am-1:30pm Substance Abuse Support Group (Monday thru Friday)
1:45pm-3:00pm Individual One on One (Tuesday)
2:00pm- 3:00 pm Women's Substance Abuse Support Grp. (Monday)
Women's Support Grp.(Thursday)
2:00pm-4:00pm Foot Care/Blood Pressure (2nd and 4th Thursday)
Care Through Touch/Massage (Friday)
Please Call for an Appointment
3:00pm-4:00pm Case Management (Monday, Tuesday, Wednesday, Thursday)
4:00pm-5:00pm Restorative Yoga (Every Friday except 1st Friday)
10:00am-11:00am AA Group Meeting (Saturdays Only) All are Welcome
Location
1175 Howard St., 94103 (between 7th and 8th Sts.)
Hours
M-F: 9-11:30am; 1-3pm
Food distribution: M-F: 9-11am
Phone Numbers
415-552-5561(Wellness Center)
Ext:301 Kathy Curran, Program Director
Ext:302 Sr. Katie O'Shea
Ext:303 Jean A. Rhea, Clinical Director
Ext:304 Tyler Butterfield, Program Manager

External Links
Edit
Ad blocker interference detected!
Wikia is a free-to-use site that makes money from advertising. We have a modified experience for viewers using ad blockers

Wikia is not accessible if you've made further modifications. Remove the custom ad blocker rule(s) and the page will load as expected.