Ad blocker interference detected!
Wikia is a free-to-use site that makes money from advertising. We have a modified experience for viewers using ad blockers

Wikia is not accessible if you've made further modifications. Remove the custom ad blocker rule(s) and the page will load as expected.
Tenderloin Health
Address
187 & 189 & 255 Golden Gate Ave., 94102
Phone
415-437-2900x100
Email
Website
http://www.tenderloinhealth.org/
Contact(s)
Hours
M-F: drop-in screening 9am-12pm. (closed for lunch 12-1 everyday) 1pm - 5pm by appointment only.
Language(s)
English, Spanish
Summary
See article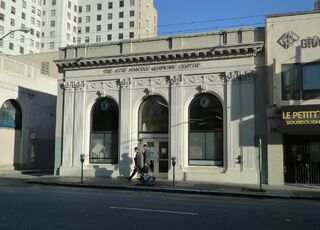 187 & 189 Golden Gate Ave., 94102
415-437-2900x100
415-431-3959 (FAX)
* Administrative note: on 7-30-2010 a user wiped out the info on this page. If this agency has changes or is closed, please indicate such, otherwise it will be treated as vandalism. Thank you. DavidBeall 13:15, July 30, 2010 (UTC)
Services Hours
Edit
AGENCY NO LONGER EXISTS- SIMILAR SERVICES NOW AVAILABLE THROUGH THE TENDERLOIN AREA CENTER OF EXCELLENCE IN HIV CARE (TACE) AT API WELLNESS (http://sfhomeless.wikia.com/wiki/Asian_%26_Pacific_Islander_Wellness_Center_(API_Wellness_Center/)
M-F:CLOSED
Tenderloin Health is closed for cleaning/lunch 12-1pm and 4-5pm, and every Wednesday from 12-5pm for staff meetings and training.
Prevention case management for HIV positive, HIV negative, transgender and Latino clients. Transgender counseling and substance abuse counseling for HIV clients. Referrals available. Outreach to residents of the Tenderloin. Free and confidential HIV antibody testing and counseling Sundays - Saturdays, 9-11:30am & 1-3:30pm (except Saturdays from 1-2:30pm). Walk in and appointments with referral. No fee. Spanish.
Provides direct access to HIV short-term emergency housing (up to 28 days in a calendar year) for homeless residents living HIV/AIDS who are linked with a case manager and working towards alternative long-term placement or family reunification.
External Link
Edit