Tenderloin Tech Lab
Address
150 Golden Gate Avenue

San Francisco, CA 94102

Phone
(415) 592-2766
Email
tenderlointechlab@gmail.com
Website
http://www.tenderlointechnologylab.org/
Contact(s)
Hours
Monday 8:30 am- 11:45 am 1:30 pm- 4:15 pm Tuesday 8:30 am- 11:45 am 1:30 pm - 4:15 pm Wednesday 8:30 am- 11:45 am Thursday 8:30 am- 11:45 am 1:30 pm - 4:15 am Friday 8:30 am- 11:45 am 1:30 pm- 4:15 pm Saturday 10:00 am-3:00 pm
Language(s)
English
Summary
See article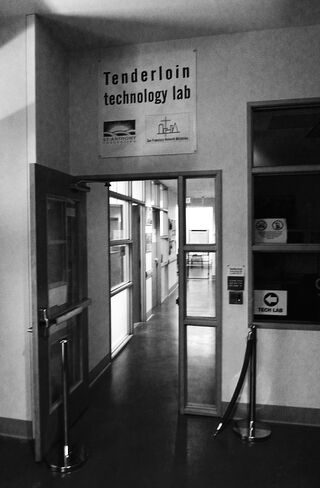 (Located in St. Anthony Foundation building across the street from St. Boniface Church and the St. Anthony's Dining Hall)
150 Golden Gate Ave, 3rd floor
(415) 592-2766
Hours
Monday
8:30 am- 11:45 am
1:30 pm- 4:15 pm

Tuesday
8:30 am- 11:45 am
1:30 pm - 4:15 pm
Wednesday
8:30 am- 11:45 am
Thursday
8:30 am- 11:45 am
1:30 pm - 4:15 pm
Friday
8:30 am- 11:45 am
1:30 pm- 4:15pm
Saturday
10:00 am-2:45 pm

A service of St. Anthony's, the Tenderloin Tech Lab provides computer access to homeless and low income adults. They offer monthly computer classes in Basic and Intermediate computer skills, as well as a variety of workshops and one day classes in such areas as social media, smart phone use, and email (among others). The Tenderloin Tech Lab is a free and open access service, just go to one of their orientations once a year and you can use the lab any time they are open.
External Link
Edit
Ad blocker interference detected!
Wikia is a free-to-use site that makes money from advertising. We have a modified experience for viewers using ad blockers

Wikia is not accessible if you've made further modifications. Remove the custom ad blocker rule(s) and the page will load as expected.