Vincent Hotel
Address
459 Turk Street ( 5 Blocks North of Market Street)
Phone
415-563-5540
Email
Website
Contact(s)
Hours
Language(s)
Summary
See article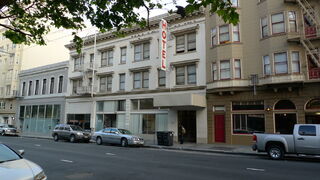 459 Turk Street ( 5 Blocks North of Market Street )
415-563-5540
Call THC @ 415-771-2427 ext. 103 for Application Process.
Units: 103 SRO Units.
Some may have in room baths, most have shared baths.
Managed By: THC - Tenderloin Housing Clinic
RENT: Percentage of Income.
Referrals for CAAP, SSI and employed people.
Program: Housing First
Multiple Agencies may have client rooms here.
Ad blocker interference detected!
Wikia is a free-to-use site that makes money from advertising. We have a modified experience for viewers using ad blockers

Wikia is not accessible if you've made further modifications. Remove the custom ad blocker rule(s) and the page will load as expected.